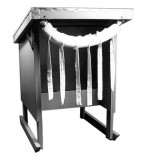 $644.00
Pricing and Shipping
This is an over-sized item. For an estimate on product pricing, freight or delivery costs, please fill out the form below.
Salt and Mineral Feeder
SKU# 500CSM0
Constructed of the finest white oak runners, 2" x 4" finest oak runners, Douglas Fir frame and Medex® siding.
Painted two coats of the best non-toxic orange paint.
Available with dividers where salt and mineral is to be fed separately.
The roof is 26 gauge galvanized, zinc grip steel.
Style "G" comes with Stainless Steel bottom metal.
Capacity: 300 lbs.
For fly (pest) control a noncorrosive DuPont orlon acrylic cattle rub with face flaps.
Oilers available in other lengths.
300 lb capacity.
Product Pricing & Shipping Inquiry Form
For further information on this product pricing, features or freight and delivery, please call us at 1-888-816-6707 or fill out the form below. A customer service representative will be in touch with you shortly.