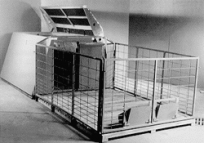 $1,795.00
Pricing and Shipping
This is an over-sized item. For an estimate on product pricing, freight or delivery costs, please fill out the form below.
Single Sow Farrowing Unit
SKU# SSFA-U
Features
Galvanized Smidley steel-covered roof opens to allow sunlight into unit to sterilize and keep dry
Easy access to clean and care for litter
Pig rails on side and back end of unit
Four oak-runners or skids
Two coats best orange paint
Extra heavy 5" T-hinges bolted on full-height door
Two door hooks
Cement coated nails in construction hold house together securely
One-half inch roof insulation against summer heat and winter moisture condensation
Houses sow up to 600 lbs. The sow is forced to lay lengthways against sloping sides which are equipped with pig rails, thus affording maximum protection for the small pigs
Includes pen
Comes knocked down and easy to assemble
Product Pricing & Shipping Inquiry Form
For further information on this product pricing, features or freight and delivery, please call us at 1-888-816-6707 or fill out the form below. A customer service representative will be in touch with you shortly.