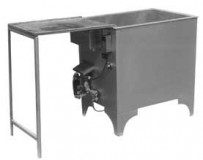 $3,760.00
Galvanized Economy Gas Scalder
SKU# BM38
Features
Holds 38 gallons, ideal for pastured poultry operations
Can be used with either LP or Natural Gas
Tanks are hot dip galvenized after fabrication.
Easily accessible pilot light, requires vent tube.
Automatic water level and heat controls. 120Volts
Unit is 23" W, 28" L & 36" H Drain table is 26" long.