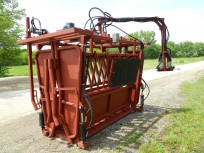 Pricing and Shipping
This is an over-sized item. For an estimate on product pricing, freight or delivery costs, please fill out the form below.
TaskMaster Custom Hydraulic Chute
SKU# Model-CC-1
Product Description
The TaskMaster cattle chute is designed for heavy-duty use by feedlots, veterinarians, sale barns, and cattlemen who need smooth action and reliability.
Compare the solid framework of our chutes and their ease of operation. You'd expect to pay much more!
Click on the Option below to view pictures.
Chute Options
Extended Head Bender
Emergency Side Exit
Gasoline Power Unit
Automatic Side Exit
Features
Heavy steel construction.
Lower access door for treatment ease.
Fold-down sides and drop side bars.
Hydraulically controlled, fast action, and scissor-type or rotary entrance and exit doors with relief valves to protect animals from over-squeezing.
Height 90", Width 60", Length 96"
Weight approximately 2700 pounds.
Note: Chute trailer sold separately.
Don't forget your Cattle Supplies
Check-out our Ag-Mart Products: Ear Tags, Banders, and much More.
Product Pricing & Shipping Inquiry Form
For further information on this product pricing, features or freight and delivery, please call us at 1-888-816-6707 or fill out the form below. A customer service representative will be in touch with you shortly.