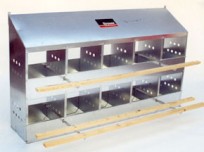 $304.00
10 Hole Roll Out Nest
SKU# 410B
10 HOLE ROLL OUT NEST
Keep Eggs Cleaner. Reduce Breakage.

-Similar to our conventional 10-hole nest. 10-8"(20.3 cm) x 11" (20.3 cm) x 11" (27.9 cm) opening but with poly front roll out bottoms.
-Eggs roll to a protected tray; flip perches up to collect eggs.
-Sloped roof is anti-roost
-Hangers included
-Ventilation holes
-Folding perches
-Use 1 nest hole for 4-6 birds.