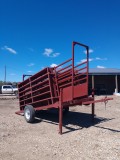 Pricing and Shipping
This is an over-sized item. For an estimate on product pricing, freight or delivery costs, please fill out the form below.
Portable Load Out
SKU# PLO
This is a NEW PRODUCT! May 2019!

Features:
Easy cranking system for adjustable height
Walk on Driver Side
Portable Panel Brackets
Tongue easily unpins to swing to either side
Swivel Doc Bumper
Custom Lengths and Widths available
Standard 14ft length X 30 in width
Access Cage at the back of the load out
Adjustable floor to horse trailer height
Product Pricing & Shipping Inquiry Form
For further information on this product pricing, features or freight and delivery, please call us at 1-888-816-6707 or fill out the form below. A customer service representative will be in touch with you shortly.