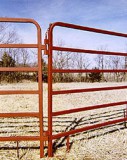 Pricing and Shipping
This is an over-sized item. For an estimate on product pricing, freight or delivery costs, please fill out the form below.
TaskMaster Corral Utility Panels
SKU# TM-PCP
Features
Available in 10' and 12' Panels and round or square tubing.
Made of sturdy 1-1/2" 14 gauge steel tubing.
10 and 12 foot panels have 6 cross bars.
Includes mud feet and chain connectors.
10' circle panels weigh 94 lbs. 12' circle panels weigh 112 lbs.
Square panels weigh 10 lbs more for 10' and 12' lengths.
Extremely durable and ideal for holding and sorting large herds or horses outside of permanent facilities.
Available with curved or square edging. Please specify preference when contacting us.
Product Pricing & Shipping Inquiry Form
For further information on this product pricing, features or freight and delivery, please call us at 1-888-816-6707 or fill out the form below. A customer service representative will be in touch with you shortly.