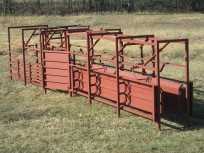 Pricing and Shipping
This is an over-sized item. For an estimate on product pricing, freight or delivery costs, please fill out the form below.
Deluxe Alley System
SKU# DA
Double to Single Alley System
Adjustable no-backs height.

Portable options available.

Adjustable wall width.
Features
Swing up no-backs prevent backing and bunching.
Tubing along top of alley prevents piling.
The deluxe alleys will adjust from:
15" to 30" in the single section area.
20" to 30" in the double section area.
The double and single alley systems can be sold separately.
Several configurations are available with load out chute and palpation cage.
Calls us for more information about the different configurations and options.
888-816-6707
Product Pricing & Shipping Inquiry Form
For further information on this product pricing, features or freight and delivery, please call us at 1-888-816-6707 or fill out the form below. A customer service representative will be in touch with you shortly.