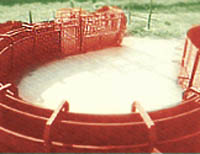 Pricing and Shipping
This is an over-sized item. For an estimate on product pricing, freight or delivery costs, please fill out the form below.
TaskMaster Cattle Working Facilities
SKU# TMWF
TaskMaster working facility or working circle is a complete permanent livestock handling facility.
The system includes tub and wedge alley with palpation cage. The facility can be custom built to fit your operation.
Working Facility Products:
Wedge Alley (9) 5' Section
Working Tub
Load Out
Additional Alley Sections
Features
No-backs prevent backing and bunching.
Heavy gauge sheet steel panels on alley and holding pen, with 3" channel steel frame.
All bolt assembly.
Pipe along top of alley prevents piling.
Several configurations are available with load out chute and palpation cage.
Standard alley is 16" at bottom, 32" at top.
​Other widths are available-call us for more information.
Product Pricing & Shipping Inquiry Form
For further information on this product pricing, features or freight and delivery, please call us at 1-888-816-6707 or fill out the form below. A customer service representative will be in touch with you shortly.