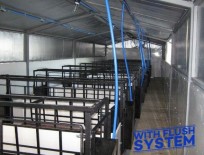 Pricing and Shipping
This is an over-sized item. For an estimate on product pricing, freight or delivery costs, please fill out the form below.
Hog Haven Farrowing House
SKU# HF
Get Your Pigs Out of the Dirt!
Features:
All units include crates, pens, fans, wiring, paddle waterers, tip out sow feeders, and heating. Special items quoted upon request.
Clear span truss type for good head room inside the building.
6' sidewalls and 7 1/2' at the center of the truss.
Woven wire mesh flooring is standard.
Units are mounted on skids to provide easy relocation and a clean, dry environment for your hogs and pigs.
Units provide added isolation aiding in disease control.
Included in the basic unit: Gas or electrical heating, lighting and electrial wiring, ventilating fans, farrowing crates and pens with individual waterers and feeders.
2 SOW Units
9'X12' shelter on the 2 Sow Unit measures 67" to the peak and has a 56" rear walk-in door. Side gates on 2 Sow Unit prop open for good summer ventilation.
Oak Floors are standard - 2"X6" Boards are solid in the bulding and have 1" spacing in the outdoor pen area. Plastic or tenderfoot flooring also available (see Options below).
Click on options below to view pictures
Options:
Extra insulation in sides and roof
Size Options:
| Model | Sow Capacity |
| --- | --- |
| HF-1 | 8 Sow |
| HF-2 | 10 Sow |
| HF-3 | 4 Sow |
| HF-4 | 6 Sow |
| HF-5 | 2 Sow |
Product Pricing & Shipping Inquiry Form
For further information on this product pricing, features or freight and delivery, please call us at 1-888-816-6707 or fill out the form below. A customer service representative will be in touch with you shortly.